english
2005-3
2008/04/07(Mon) 21:55
Study on the Residual Strain and the Superconducting Properties for Practical Nb3Sn Superconducting Wires
実用Nb3Sn超伝導線材の残留歪と超伝導特性に関する研究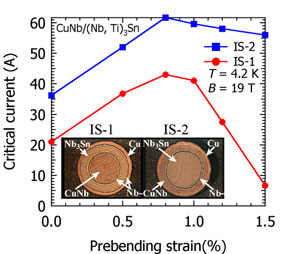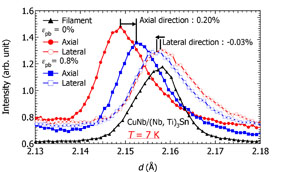 The large enhancement of the superconducting properties can be achieved by repeated bending process at room temperature i.e., the prebending effect. We investigated the prebending effects on the superconducting properties for practical Nb3Sn wires. We found that the most effective enhancement of the critical current was obtained for the Nb3Sn wire with reinforcement materials in the outer part as shown in the left figure. The right figure shows the residual strain measurement of the Nb3Sn wires by the neutron diffraction. The reductions of the residual strains of the axial and the lateral directions play an important role for the prebending effects.
IMR, Tohoku University: H. Oguro, G. Nishijima, S. Awaji, P. Badica, K. Watanabe
Furukawa Electric Co., Ltd.: K. Miyoshi, S. Meguro
Fac. of Eng., Iwate University: K. Katagiri
High Energy Accelerator Research Organization: F. Shikanai, T. Kamiyama
Reference: H. Oguro, G. Nishijima, S. Awaji, K. Miyoshi, S. Meguro, and K. Watanabe, ";Effect of prebending strain on CuNb/Nb3Sn superconducting coils using a react and wind method";, IEEE Trans. Appl. Supercond. 16 (2006) 1237- 1240.
実用Nb3Sn超伝導線材に対する事前曲げ効果(室温で繰り返し曲げ戻し歪を与えることで,Nb3Snの超伝導特性が大幅に向上する効果)の詳細な理解を得るため,事前曲げ歪と超伝導特性の関係について調べた.線材の内側にNb3Sn,外側に補強材が配置されているとき事前曲げ歪効果が最も有効であることを示した.さらに,中性子回折を用いてNb3Sn線材の残留歪を直接観察した.その結果,この効果が線材の軸方向と側面方向の両方の残留歪が緩和して起こることを,実験的に明らかにした.
東北大学金属材料研究所:小黒英俊,西島 元,淡路 智,P. Badica,渡辺和雄
古河電気工業:三好一富,目黒信一郎
岩手大学工学部:片桐一宗
高エネルギー加速器研究機構:鹿内文仁,神山 崇