english
2004-10
2008/04/08(Tue) 14:00
Melt Growth of Benzophenone under Magnetic Levitation Condition
磁気浮上状態を利用したベンゾフェノンの無容器メルト成長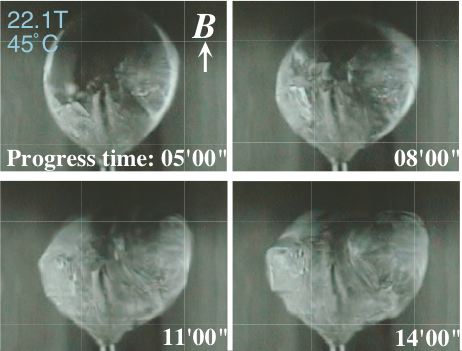 We have performed the in-situ observation experiment for crystallization of melting droplet of benzophenone (mp = 48~50℃) under the magnetic levitation condition. A benzophenone crystal stuck on a Pt wire was melted by irradiation of CO2 laser light and it has grown at temperatures controlled by a thermostatic bath in a hybrid magnet. It was found that crystals tend to grow perpendicularly to the direction of the magnetic field and that the growth mechanism changes from dendritic growth to facet growth with decreasing the supercooling degree. A large square grain was observed in the case of 450℃.
IMR, Tohoku University: K. Takahashi, I. Mogi, T. Onogi, S. Awaji, K. Watanabe
Reference: K. Takahashi, I. Mogi, T. Onogi, S. Awaji and K. Watanabe, Crystal Growth of Benzophenone under Magnetic Levitation Condition, The 8th Symposium on New Magneto-Science, Yokohama.
磁気浮上状態において反磁性有機結晶ベンゾフェノンの融液からの結晶成長実験を行った.白金線の先端に付けたベンゾフェノン結晶を一定温度に設定した恒温槽内に入れ,CO2レーザー照射によって溶融し成長の過程を観察した.その結果,結晶は磁場と垂直方向に成長する傾向があること,過冷却度が小さくなるにつれデンドライト成長からファセット成長に移行することが分かった.また,45℃で成長させた場合には,四角形の大きなグレインが成長しているのが観察された.
東北大学金属材料研究所:高橋弘紀,茂木 巌,小野木哲也,淡路 智,渡辺和雄